Nurses and healthcare workers are the heart and soul of our healthcare system. It is scary to think of where we would be without their courageous work. Just like we often need their help, nurses and healthcare workers need your support now more than ever. There are many things each one of us can do to support nurses and healthcare workers. From brightening a nurse's day with a care package full of nurse accessories to helping a healthcare worker by sharing your positive experiences with a patient experience representative, these eight ways to support our heroes show our appreciation for them.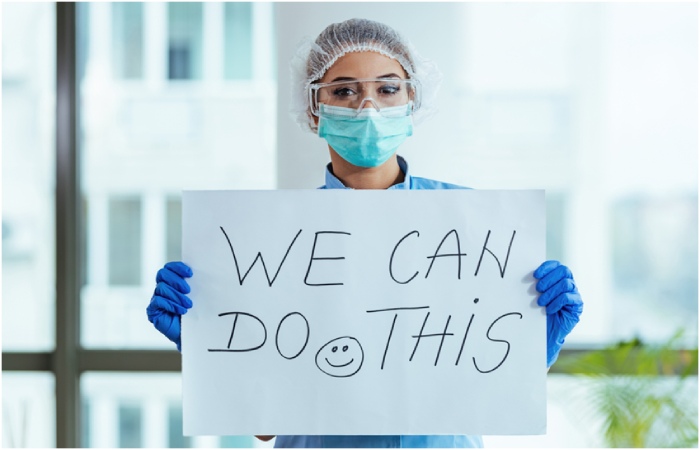 1. Volunteer to Run Errands
Nurses and healthcare workers are busier than ever, and completing errands like buying groceries and going to the laundromat can be a struggle. If you know a nurse, volunteer to do some of their everyday chores for them. Ask them if you can do anything to help out like delivering groceries to their front door or picking up their dry cleaning. Nurses and other healthcare personnel work long emotionally and physically draining hours and are sure to appreciate any support that makes their lives outside of the hospital easier.
2. Large and Small Social Media Campaigns
Groups of people can come together to create a social media campaign to thank the healthcare workers in your area or at a national level. Join a large celebration of nurses' hard work with International Nurse Day on May 12th. In early April, join the activities of World Health Worker Week. In 2021 some of the activities included learning sessions, panel discussions, and social media graphic creation. For smaller social media campaigns focused on your local nurses and hospital workers, organize a group to coordinate as many posts as possible on a specific day. This could be making posters and posting photos of them in your front yard. Social media campaigns like this are best matched with other substantive gifts like care packages full of nutritious snacks and useful items like a travel mug. The two combined will show that your community supports nurses and healthcare workers.
3. Give a Care Package
Gift baskets aren't just for the holidays, and sending a thoughtful care package to the nurse or healthcare worker in your life might be the pick-me-up they need to get through the workday. A care package is a bundle of food and luxurious items for a loved one. You could send a fresh fruit package during the winter months to brighten a healthcare worker's day. Care packages are also a great way to give some scrubs for women nurses in your life. The tasty food will eventually run out, but they will always associate their comfortable scrub tops with the supportive gift you sent them.
4. Assist with Child Care
Many people have spent more time with their children in the past two years because of school closures. For some, this is doable because of remote work, but healthcare workers do not have that option. If you can care for a nurse's children, you will save them stress and money by doing so. The average child care cost varies throughout different states, but it is consistently over $5,000 a year. This is one of the most substantial ways you can support a neighbor or friend who is a healthcare worker.
5. Follow Public Health Guidelines
If you don't know any healthcare workers personally and want to show respect for the heroes who have worked tirelessly throughout the pandemic, one simple action you can take is adhering to public health guidelines. Educate yourself on recommendations from the CDC (Centers for Disease Control and Prevention) and follow them closely to protect yourself and others from COVID-19. When you make a conscious effort to reduce virus transmission by limiting your close contacts, you lighten the strain on the public health system.
6. Volunteer Your Time
One hands-on way to support healthcare workers is to call a long-term care facility and volunteer to talk with the people staying there. The limits on visiting have taken a toll on patients in long-term care, and nurses have taken up the role of companions for many people. Take some of that responsibility for yourself by making consistent phone calls with some patients. You get to learn about a new person and tell them about yourself while making a nurse's day a little bit easier.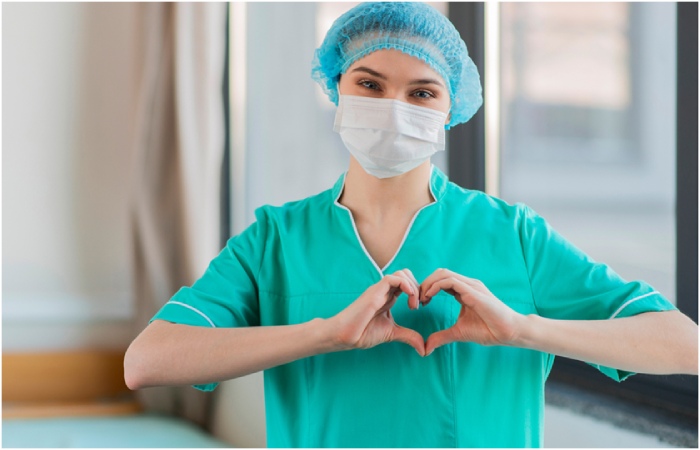 7. Share Positive Experiences
Hospitals and other healthcare facilities often keep records of their patients' experiences while in their care. If you had a positive experience because of the expertise of a nurse or the warmth of a healthcare worker, call the hospital and let them know. Make sure to mention the names of the people who helped you while you were there. This boosts workers' morale because they know their work made a difference. Also, when you single out staff by name, it improves their employee evaluations.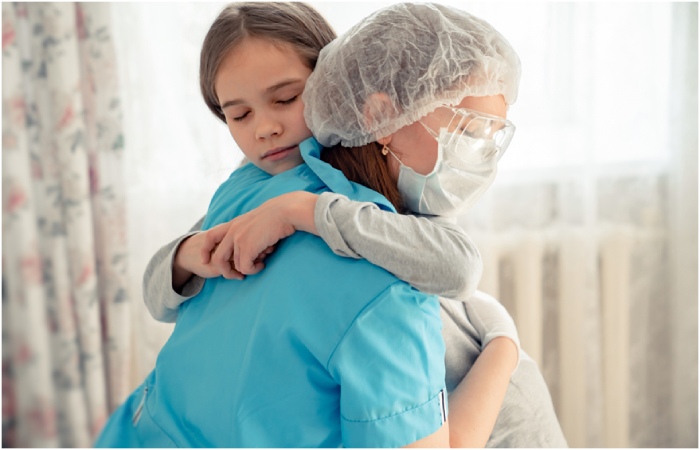 8. Recognize That They Are Human
While it is true that healthcare workers exert heroic levels of effort in their work, they are just humans. Their work is hard and draining, so there are times when it is not enjoyable. Even in those times, they deserve our support because they still show up and help us as much as they can.  Taking time to show your appreciation could be the boost a nurse needs to make it through another long shift. Supporting our healthcare workers reminds them we recognize their everyday struggle on our behalf.
You Support Matters
Your support improves the lives of nurses and healthcare workers, whether you donate time, send consistent thank you's over social media or give a gift. Healthcare workers have been working non-stop to keep their communities safe. If you have been sick, you know the value of a good nurse. Even if you haven't personally been ill, you likely know a nurse or someone who has been helped by one. Give back to the healthcare community today and support your local community's well-being in the process.