Introduction
Haleem is a type of stew trendy in the Middle East, Central Asia, and the Indian subcontinent. Although the dish varies from region to region, it optionally includes wheat or barley, meat, and lentils. Popular variants are Keşkek in Turkey, Iran, Afghanistan, Tajikistan, Uzbekistan, Azerbaijan, and northern Iraq. Moreover, Hareesa in the Arab world and Armenia; Halim in Bangladesh and West Bengal, India; Khichra in Pakistan and India. This article will discuss more haleem, and we also recommend the flavorsome haleem you can look at Hyderabad Spice.
Hyderabadis are looking forward to the start of Ramzan, the holy month of fasting for Muslims around the world, for a particular reason. Hyderabadi Haleem's season is the city's famous delicacy that Muslims eat at dusk to breakfast. The high-calorie dish is usually eaten during dinner or iftar as it provides instant energy. Moreover, you can find such delicious haleem and at Hyderabad Spice.
Here Are Six Things You Might Not Know About Hyderabadi Haleem:
Hyderabadi Haleem first appeared in the 19th century in the royal kitchen of Nizam, the former ruler of Hyderabad. The dish was brought to India by chefs from Western Asia.
Today, Haleem manufacturing in Hyderabad has grown into an industry with hundreds of branches in the sister cities of Hyderabad and Secunderabad. Although the dish mainly prepared in the month of Ramzan, some luxury hotels such as Taj Falaknuma and Taj Krishna prepare it on special occasions. Besides, local chefs also prepare it during some Muslim weddings.
It is not a Hyderabadi Haleem unless it prepared in Hyderabad. It is one of the few non-vegetarian delicacies in the world that has given geographic indicator status. This makes Hyderabadi Haleem even more special and sought after, not only in India but also worldwide.
Haleem is a slow cooker delicacy that takes up to 12 hours to prepare. The day begins at 4 am for chefs at some of the most popular outlets. The first batches of Haleem are packaged and shipped internationally to locations in West Asia (where Haleem comes from), North America, Europe, and Australia.
Haleem is made in a purpose-built clay and brick kiln erected during Ramzan's. Furthermore, Haleem is made with goat or sheep meat, although some hotels also make it with cheaper buffalo meat, chicken, fish, or emu. Meat, wheat, lentils, ghee, ginger, garlic, nuts, cinnamon, cardamom, black pepper, cloves, and saffron are constantly pounded and stirred with large wooden paddles to give it. Also, Haleem its a sticky texture. Best eaten warm, served with a side of fried cashews, coriander, and lime. Some hotels top it with sliced egg, goat's tongue, or even 65 chicken too!
How To Prepare Delicious Haleem?
Haleem consists of 4 main components:
Grain: Wheat or barley are almost always present. Legumes and rice may or may not use depending on the recipe's region of origin.
Meat: beef or lamb and mutton; goat meat; or chicken
Spices: Contains a large selection, including cassia and fennel, among others.
Cooking liquid: water, milk, or broth.
This dish is simmered for seven to eight hours and then vigorously stirred or whipped with a stirring rod. This results in a doughy consistency that blends the flavors of spices, meat, barley, and wheat.
A traditional haleem is made by first soaking wheat, barley, and lentils overnight. A tasty meat sauce called korma prepared until the meat is tender. Wheat, barley, and gram boiled in salted water until tender. The cooked wheat, barley, and lentils are mixed with the meat sauce (beef, lamb, or chicken) and combined with a heavy hand mixer to get a doughy consistency. The cooking process takes about 6 hours. In the end, the cooked haleem garnished with fried onions, julienned ginger, sliced ​​green chilies, coriander leaves, lemon wedges, and chaat masala. However, the preparation of it varies in different regions.
Best and Delicious Haleem At Hyderabad Spice
Here the best tasty and delicious haleem with and this full of flavor; you can look at Hyderabad Spice. Besides, this place is so popular that the traffic outside these restaurants is disruptive at night. Furthermore, this unique and flavorsome haleem at Hyderabad Spice is different from all other restaurants.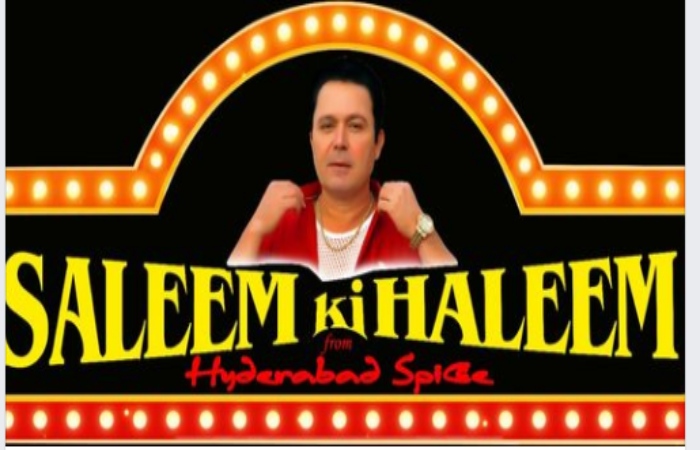 Yummy Nutrition Haleed At Hyderabad Spice
It is a high-calorie dish that provides protein from meat and fiber and carbohydrates from various cereals and legumes.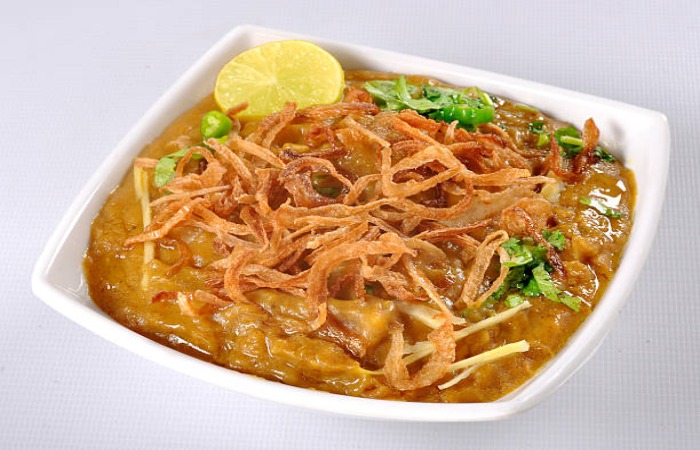 Serving Appealing Haleem At Hyderab Spice
It can serve with minced mint leaves, lemon juice, coriander leaves, fried onions, minced ginger root, or green chilies at Hyderabad Spice, which is your favorite restaurant.
Conclusion
If you find it useful, also We request you share it with your friends and near ones, and if you like to add more information, please do comment in the comment section. We will appreciate your comments and also your feedback is valuable to us.
Find SaleemkiHaleem on Facebook, Twitter, Instagram, Google Maps
Address: Shanti Nagar Colony, Masab Tank, Hyderabad, Telangana – 500457
Open Now: 11:30 am to 11:00 pm