Overview of Lipozene
Diet pills are a smart choice for people who thinks weight loss is challenging. Lipozene is a famous diet pill for weight loss. It has a soluble fiber known as glucomannan that absorbs water to make a thick gel. This fiber might be responsible for many of the human-reported supplement benefits.
Lipozen can have potential benefits in some cases. However, the effects of weight loss are usually mild and not suitable for everyone.
Diet pills like Lipozene are not substitutes for tried and tested weight management methods such as healthy eating and regular exercise.
In this article, we examine the safety of Lipozene and its benefits, side effects, effectiveness, and more.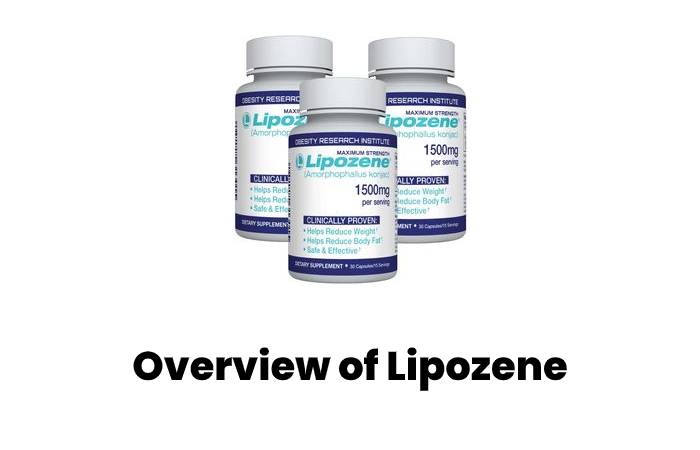 Also Read: Blastocystis Hominis – Overview, Symptoms, Causes and More
What Research has to Say About Lipozene?
The website of lipozene covers the mentions of clinical studies carried. However, not provided complete details of research done neither any published details for the experts carry evaluation.
The site claims that overweight people in the active group lost weight approximately 4.93 lbs compared to the placebo. But there are no given instructions about diet, exercise, or lifestyle changes. Moreover, it further says that 78% of weight loss was pure body fat.
The reports sound good, but the fact is what the people have to do additionally to lose weight, such as doing exercise to cut out the calories.
This is because the research has not published in scientific journals. So there is no way to find the research or study holds for the examination. Most importantly, some reports say that class action lawsuits questioned the truth about the study.
The firm also refers to the scientific studies about Amorphophallus konjac as proof that the product is beneficial. This plant is the source of glucomannan gum, which is the active ingredient in lipozene. But as a matter of the fact that glucomannan studies are not very remarkable.
For instance, one reviewed study decided that glucomannan does not support weight loss when consuming for eight weeks. And another review stated that current clinical tests concluded that few studies showed partial weight loss with glucomannan, but not for long term proof and no change in the body mass.
2. What is Lipozene?
Lipozene is a commercial weight-loss supplement that contains a water-soluble fiber called glucomannan.
The glucomannan in Lipozene is the only active component. It comes from the konjac plant roots and as well known as elephant yam.
Glucomannan fibers have a unique capability to absorb water: a single capsule can turn a whole glass of water into a gel.
For this reason, it widely used as a food additive for thickening or mixing foods. It as well the chief ingredient in shirataki noodles.
This water-absorbing quality of glucomannan gives many health benefits, such as weight loss, relief from constipation, and lower cholesterol and blood sugar levels.
Lipozene is a marketable glucomannan product that gives all those advantages.
Lipozene also has gelatin, magnesium silicate, and stearic acid. None of these help you lose weight. However, they will add weight and make the product thick.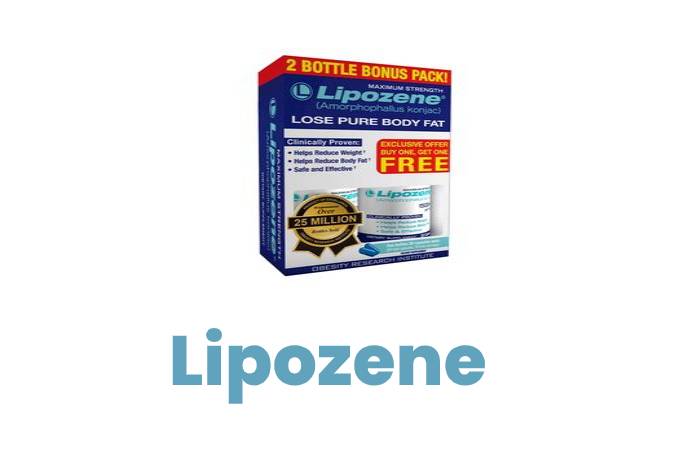 3. Is Lipozene Safe?
As we know all supplements, there are possibilities of side effects, and communication is essential. Besides, please consult your healthcare expert or provider earlier using Lipozene or any other supplements to assure you that it is harmless.
4. Lipozene Benefits
Benefits
The benefits of glucomannan, which is the active ingredient in Lipozene, relate to soluble fiber.
Help enable weight loss
Reduce fats in the blood
Lower blood pressure
Reduce cholesterol
Reduce levels of glucose
The possible health benefits contain:
Lower disease threat: It might help to lower blood pressure, blood fats, and blood sugar. Those are threat issues for heart disease and type 2 diabetes.
Developed gut health: Glucomannan has prebiotic qualities. It foods the bacteria in the gut, which creates a beneficial short-chain full of fatty acids that might lower your several diseases risk.
Reduce constipation: Glucomannan helps heal constipation. The commended dosage is 1 gram, three times a day.
Possible Side Effects and Risk
Maximum people stand glucomannan fine. But some individuals could be additional delicate to soluble fibers, and slight effects in the digestive system possibly occur.
Slight side effects from taking glucomannan may include:
Constipation
Diarrhea
Gas
Stomach pain
Any side effects may worsen if the person does not drink enough water and the glucomannan, as the fiber is very receptive and may take water from the body.
Glucomannan may further decrease the absorption of some medications. People talk to a doctor before using Lipozene to ensure it will not mix with some medicines.
Choking
There will be a risk of choking if an individual does not drink enough water and Lipozene capsules. So if the capsules stuck in the throat, they may enlarge and grow and block the esophagus.
People who have trouble taking capsules may need to evade Lipozene.
If anyone facing severe side effects, such as chest pain, difficulty breathing, or swallowing after taking Lipozene, needs to seek instant medical attention.
Reactions from Other Ingredients
Though glucomannan and konjac root are not common allergens, more or fewer people may be more sensitive to the added ingredients in Lipozene.
Apart from glucomannan, Lipozene capsules also contain:
Titanium dioxide
Stearic acid
Microcrystalline cellulose
Magnesium silicate
Gelatin
FD&C Blue #1
5. Does Lipozene Work?
Several studies have looked at how glucomannan, the active ingredient in Lipozene, affects weight loss. Many report small but positive effects.
In a five-week study, 176 people randomly assigned to a diet of 1,200 calories plus a fiber supplement with glucomannan or a placebo.
Those who took the fiber supplement lost about 1.7 kg more compared to the placebo group.
Similarly, a recent review concluded that glucomannan might help reduce body weight in the short term in overweight or obese people.
However, some researchers believe that the benefits of fiber supplements for weight loss usually wear off after about six months. The results are best in combination with a reduced-calorie diet.
This means that you still need to make changes to your diet for long-term results.
6. How does Lipozene Help to Weight Loss?
In observational studies, people who eat more fiber lead to weigh more limited.
The precise cause is unknown, but there are several ways that soluble fiber can help you lose weight.
Here are a few ways that glucomannan, the active ingredient in Lipozene, can help weight loss:
Low Calorie
The capsules are low in calories, so you will feel full without adding extra calories to your diet.
Reduce Calories in Diet
It can reduce your intake of other nutrients like protein and fat, which means you get fewer calories from your food.
Keeps you complete
it receives water and increases in your stomach. This reduces the time at which food leaves your stomach and keeps you full longer.
Promotes Gut Health
It can indirectly affect weight by promoting good bacteria in the gut. This could make you less likely to weight gain. Many other types of soluble fiber can provide the same effects.
However, glucomannan's absorbent qualities form an extra thick gel, making it feel even more useful.
7. Lipozene Dosage
The manufacturers recommend taking 2 capsules of Lipozene 30 minutes before a meal with at least 8 ounces (230 ml) of water.
You can do this three times a day for a maximum of 6 capsules spread throughout the day.
This is equivalent to taking 1.5 grams, 3 times a day, or 4.5 grams a day. This only exceeds the amount known to be useful for weight loss, between 2 and 4 grams per day.
However, timing is quite important, as glucomannan does not affect weight unless taken before a meal.
It is also essential to take it in capsule form, rather than the powder inside the capsules, and wash it with plenty of water.
Glucomannan powder is very absorbent. If taken incorrectly, it could expand before reaching your stomach and causing a blockage. Inhaling the dust could also be life-threatening.
Also, you start with a small amount and gradually increase it. The sudden inclusion of too much fiber in your diet can cause digestive problems.
Lipozene is generally well tolerated. However, people occasionally report nausea, an upset stomach, diarrhea, and constipation.
If you are taking any medications, especially diabetes medications such as sulfonylureas, you should consult your doctor before taking Lipozene. It can reduce the effectiveness of the drug by blocking its absorption.
However, this can generally avoided by taking your medication at least an hour before or four hours after taking the supplement.
Finally, the benefits of lipozene and glucomannan are the same. This means you can buy a cheaper, unbranded glucomannan supplement.
8. Lipozene Review
Find out how well the brand has rated by customers. This means that you check out all the websites that display real customer reviews. Also, scan each review to see what common customer side effects are listed, what people have experienced in terms of weight loss, whether or not people are taking it long-term, and whether there are repetition problems. The website mentions that there have been repeated side effects, including gas, gas, digestive problems, and many other symptoms.
Review detailed clinical studies to determine if each ingredient added safely and healthily. Since there is only one ingredient in glucomannan, it is vital to see that that single ingredient can help you lose weight and whether the price is fair. This ingredient is a fiber found in many other dietary supplements.
Have a thorough knowledge of diet pills. It is valuable to know how other dietary supplements compare to Lipozene. This makes it easier to determine if you are getting a good deal and the alternatives for losing weight. Since the review showed that Lipozene received low ratings from both customers and website reviews, it can help see why it is doing so poorly.
9. Case Studies of Lipozene
This research centers on claims made by Lipozene, the Obesity Research Institute, that Lipozene is clinically proven to aid in weight loss.
The glucomannan is the active ingredient in the Lipozene diet pill, a substance from the konjac root. Consumers told to take the pill with 8 ounces of water, which causes the glucomannan in the stomach to expand, take up space, and slow down food processing. The makers of Lipozene believe this will promote weight loss as consumers eat less and feel full sooner and longer.
Lipozene makes two claims on its website and some of its packaging. The website says: "Numerous studies have shown that the active ingredient in Lipozene works in an independent study of Lipozene's exclusive formula, not only did participants lose weight, but 78% of every pound lost was body fat!.
However, the Website only Shows Three Clinical Studies
The first Study: Effect of Glucomannan in Obese Patients: A Clinical Study, is an eight-week double-blind study that found significant weight loss and reductions in serum cholesterol and low-density lipoprotein cholesterol in the glucomannan group. The fat content of the weight loss not taken into account, and the sample consisted of twenty women, a minimal group.
The second research: Glucomannan and Obesity: A Critical Review, was a meta-analysis of numerous studies with weight loss as a primary or secondary focus. He found weight loss in studies that mainly focused on weight loss, but not studies with weight loss as a secondary focus. She concluded, "[T] mock data suggests GMOs are safe and effective in promoting small weight loss. However, before the widespread use of GMOs can be safely recommended, additional tests with standardized preparations are necessary to expand the existing data on safety, efficacy, and action mechanisms for weight reduction. "The fat content of the lost weight was not taken into account.
The third study: Effects of Glucomannan on Plasma Lipid and Glucose Concentrations, Body Weight, and Blood Pressure: Systemic Review and Meta-Analysis," reviewed fourteen randomized controlled trials and found lower "statistically significant" body weights for patients taking glucomannan. However, noted that "the effect of Glucommanan on weight can described as mild" and that "further individual studies are required and required to follow patients for longer periods and evaluate both safety and efficacy." She didn't mention the fat content of the weight loss.
Various Side Effects of Lipozene Found on a Website Created by a Former Liopzene User
Including diarrhea, allergic reactions, and changes in blood sugar. He claims the Obesity Research Institute company "has already received a $ 1.5 million fine from the FTC for making insane claims in 2005. To gain more knowledge you can refer a unique or an unique
A review on Gayle L. Weese's website said, "At first I was excited about the television commercials. For one, they advertise the product as a "fat-burning" supplement. Let me tell you, it is not like that! after 3 weeks, and I can tell you that it doesn't work! I haven't lost an ounce! Worse still, my appetite is intact. "Others reiterated the charge of not losing weight or suppressing appetite. Another, from Phillip J. Pisciotta, began," Stay away from this one! Just one pill was enough to rush me into the ER. It makes people sick and doesn't even make you lose weight. I felt sick and constipated the whole time.
Another website noted side effects such as gas, constipation, gas and bloating, lesions in the colon, and "general fatigue, dullness, and weakness." He conducted an informal study of over 12,000 responses to his online survey, which found that 12.4% of users said that Lipozene "while I was working on it," 1.6% of users had "terrible side effects," and 84.2% said it did not work".
10. Bottom Line
Some scientific proof recommends that the glucomannan in Lipozene could help to reach your weight loss goal.
If you are interested, you will get the same benefits from any glucomannan supplement. A good selection of these supplements is available on Amazon.
However, it is essential to note that it is not a "silver bullet" for weight loss, and it will not help you lose a significant amount of weight on its own.
You require to eat healthily and exercise to drop weight and retain it off.
Related Searches
lipozene
lipozene reviews
does lipozene work
lipozene review
is lipozene safe?
diet pills