Weight Loss- With COVID-19 out there, the World Health Organization advises us to avoid unnecessary movements and observe social distancing to lower the risk of contracting or spreading the virus. Heeding this advice, many companies have instructed their employees to work from home. Similarly, academic institutions have closed, ordering learners to stay home until further notice.
To be frank, many people are very idle at home right now, risking gaining weight and becoming obese. That explains why the rate of obesity has significantly gone up. Movement limitation, social distancing, and stay-at-home calls have left many people no choice but to adopt a sedentary lifestyle where they spend too many hours in front of their screens watching TV, movies, or gaming.
Weight gain has become a major health concern with more people around the world becoming overweight or obese now more than ever. Luckily, it's very easy to deal with. There are many ways to stop getting fat with food being one of them. With that said, here are the top two incredible recipes of foods you can consume more to shed those unwanted calories:
1. Green Tea with Lemon
Perfect for breakfast, green tea with lemon is one of the most effective beverages for weight loss you can take. First, unlike other types of teas that have some amounts of calories, this tea contains zero calories. Second, this tea has strong metabolism-boosting characteristics, allowing the body to burn more calories than it normally does. Third, this tea is quite filling, reducing hunger and appetite, which are key factors for weight gain. Lastly, this tea improves digestion, helping with weight loss by ensuring a higher food absorption rate. Having said that, here is a quick remedy for great tea with lemon that yields six servings:
What You Will Need
An electric tea maker.
A source of heat.
Ingredients
5 cups water.
1/4-1/2 tsp. green tea powder.
1/4 cup lemon juice.
1/4 cup honey.
Directions
Transfer the five cups of water to the tea maker and bring it to a boil.
Next, add lemon juice.
Then add honey.
Thereafter, add green tea powder.
Finally, bring the solution to a boil.
After that, turn off the power and pour your tea into cups before serving warm with low-calorie snacks like coconut chips.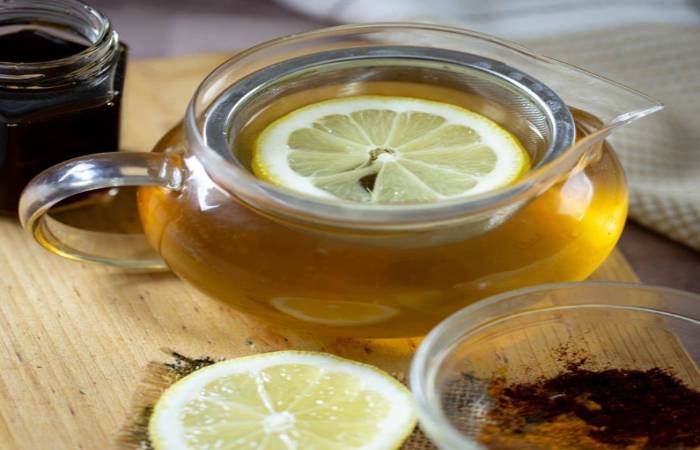 2. One-Pan Seared Salmon with Chimichurri and Summer Vegetables
One-pan seared salmon with chimichurri and summer vegetables is absolutely delicious and good for weight loss. That's because this delicacy offers only 500 calories per serving, which is actually the lower limit of the recommended 500-700 calorie limits per meal.
Having said that, you can cook or order some straight from Sun Basket, who will deliver your order to your doorstep. Never heard about this meal delivery service before? If so, you should take a moment to read this expert review, which covers the A-Z about the service. However, if you prefer to cook due to one reason or another, here is a quick recipe you can follow:
What You Will Need
Paper towels.
A large frying pan.
2 large plates.
A source of heat.
Ingredients
(a)For Seafood
6 tbsp. extra virgin olive oil plus more if need be.
2 skin-on salmon fillets (about 5 ounces each).
10 oz. sea scallops.
1 organic fennel bulb(a white vegetable with green feathery leaves that is consumed as a cooked vegetable or raw in salads).
And 1 organic squash( a large hard vegetable with very thick skin).
1 organic Roma tomato.
And 1 organic lime.
1 organic fennel bulb.
2 tbsp. extra virgin olive oil plus more as desired.
(b) For Chimichurri( a sauce originally from Argentina that entails chopped fresh parsley seasoned with various herbs, garlic, and pepper, as well as bound with vinegar and oil).
4 tbsp. red wine.
2 tbsp vinegar.
A bunch of fresh parsley or cilantro.
1 fresh garlic.
4 tbsp. cumin.
Kosher salt to taste.
Directions
(a) Prepare and cook your salmon fillets:
Start by patting the fillets dry, using the towel.
Next, season the fillets generously with salt as well as pepper.
Meanwhile, put 2 tbsp of the olive oil in the pan and heat over medium-high heat until the oil is hot but not smoking.
Then, add the fish fillets (skin side down) and cook until lightly browned and the skins are crispy, or for 5 minutes.
Thereafter, turn each fillet and cook until the flesh is opaque and flaky, or for 4 minutes.
After that, transfer your fillets to a plate.
Now, wipe out the pan.
(b) Prepare and cook the scallops:
Begin by patting the scallops dry with a paper towel.
Then season the scallops lightly with salt.
Next, add 2 tbsp of the olive oil in the wiped out pan and heat over medium to high heat until hot but not smoking.
After that, add the scallops and cook without turning until golden brown on one side, or for 4 minutes.
Thereafter, turn the scallops and repeat step iv.
Then transfer scallops to a separate plate and wipe out the pan.
(c)Prepare the vegetables:
Start by trimming both ends from the squash.
Next, cut the squash crosswise into half-inch-thick rounds.
Then, cut away the root end of the fennel.
After that, cut your fennel lengthwise into quarters(be sure to keep the core intact).
Thereafter, core your tomato.
Now, cut the tomato lengthwise into quarters.
Next, cut the lime into wedges.
(d) Cook the vegetables:
Add the remaining olive oil in the wiped pan and warm over medium-high heat until hot but not smoking.
Then, arrange the squash as well as fennel in a single layer making sure the cut sides face down.
Next, season the vegetables with salt and pepper, and cook, until starting to soften and lightly charred, or for 4 minutes. You should turn the vegetables only once.
After that, transfer the cooked squash and fennel mixture to a separate plate.
Now, add your tomato slices to the pan and season with salt alongside pepper.and cook over medium-high heat until starting to soften or for 2 minutes.N/B: Avoid turning the tomatoes.
Meanwhile, prepare your chimichurri sauce by mixing the corresponding ingredients; red wine, vinegar, parsley or cilantro, garlic, cumin, and Kosher salt.
Thereafter, transfer the seafood plus vegetables to individual plates.
Finally, top your servings with the chimichurri sauce you just made, and garnish them with the lime wedges and enjoy while still warm.
Final Thoughts
Being overweight can lead to several health conditions, including type 2 diabetes, stroke, and high blood pressure. Yet, many people are today at a higher risk of that, thanks to the COVID-19 pandemic, which has forced the world to adopt a sedentary lifestyle. The good news, however, is that weight gain can be dealt with by consuming the above delicacies more frequently. Green tea with lemon as well as one-pan seared salmon with chimichurri and vegetables all have strong weight loss characteristics. Moreover, Weight loss helps with back pain, since you're removing extra pressure on your spinal discs and back.